RT22 Pedestrian-Bicycle Bridge Project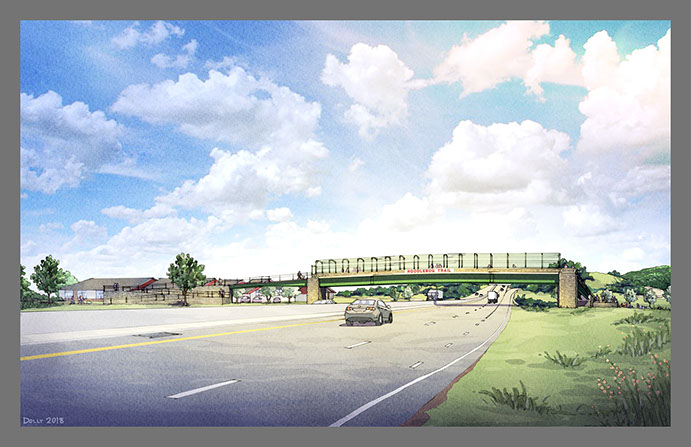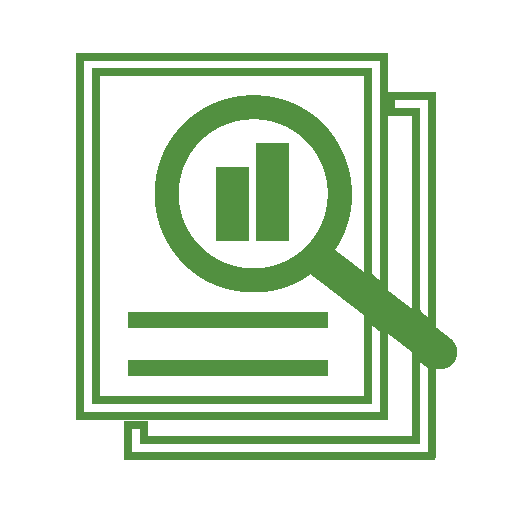 Project Overview
The Route 22 Pedestrian-Bicycle Bridge Project involves construction of a pedestrian-bicycle bridge over vehicular traffic on US Route 22. The Bridge will be located in Burrell Township, Indiana County, just west of the US Route 119 and Route 22 interchange (reference the Regional Trail Systems map). Once constructed, The Bridge will extend the Hoodlebug and Ghost Town Trail systems across Route 22 and connect business, educational, and employment centers along the Route 22 corridor.
The project is one in a series of efforts to close the gap from the Ghost Town and Hoodlebug Trails to the Blairsville Riverfront Trail, and then ultimately to the West Penn Trail which is located northwest of Blairsville Borough. Upon completion, the The Bridge will connect Indiana and Ebensburg to Blairsville. Furthermore, this project coupled with the efforts in Westmoreland County and to the east, will place this area of Indiana County at the center of a regional trail network linking Pittsburgh, Indiana, Ebensburg, and Altoona (reference Regional Trail Systems map).
Having an interconnected trail system crossover Route 22 will not only improve connectivity, but it also improve pedestrian safety, boost recreation and related tourism, act as a gateway to Indiana County, and allow for future expansion. The economic impact of adding to the 135 total miles of trails across PA will be gained from local as well as long-distance trail users who spend their money on lodging at local hotels, restaurants, and shops.

Supporting Studies
Extending the Hoodlebug and Ghost Town Trail systems has emerged as a top priority in a number of regional, county, and local plans and studies, all of which involved extensive public input and comment opportunities. Recommendations taken from these documents highlight not only connecting these trail systems, but also expanding local pedestrian networks through trail development, shared-use routes, and bicycle lanes. The prioritization of bicycle and pedestrian investments is based on the well-documented connection between these investments and economic development and quality-of-life benefits. Congressman Murtha neatly summed up this growing recognition by stating, "The trail is already attracting a lot of people, and were just starting to market it. It's a major asset for our region, not only because of the tourist dollars it's attracting, but also because it's a key piece of our economic rebuilding efforts".
Some of the specific plans and studies that include recommendations for extending the trails and/or constructing a pedestrian-bicycle bridge over Route 22 include:
Indiana County Heritage Strategy (1995)
Indiana County Open Space, Greenways, and Trails Plan (2010)
Indiana County Regional Trail Connectivity Study (2011)
Indiana County Bicycle and Pedestrian Transportation Plan (2011)
SR22 Road Safety Audit conducted by Southwestern Pennsylvania Commission (2011)
Where We Live… A Comprehensive Plan for Indiana County (2012)
Pedestrian and Bicyclist Transportation Plan for Indiana County (2012)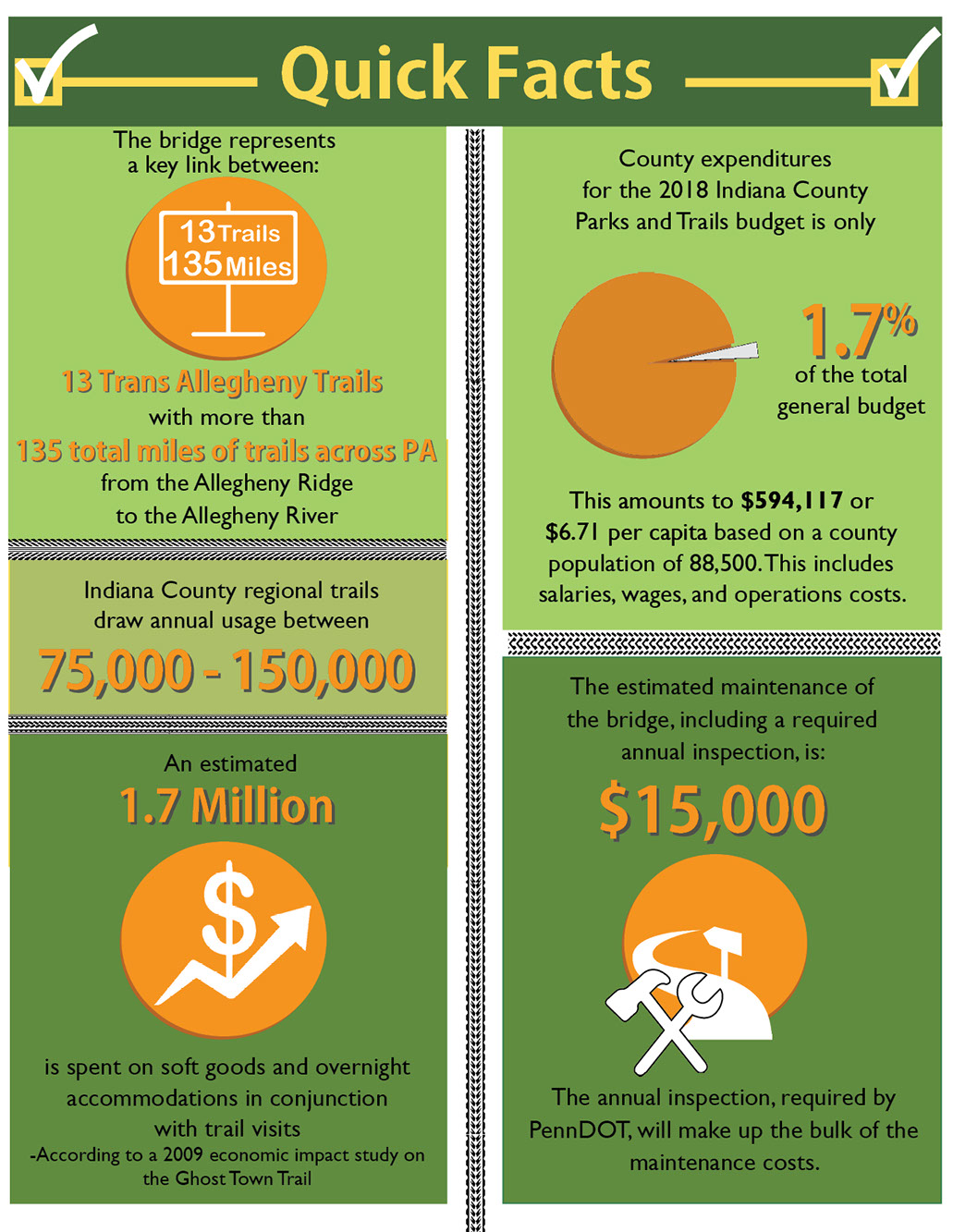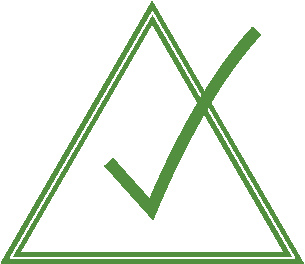 Prioritizing Safety
Improving safety has been the number one driving force behind the Route 22 Pedestrian-Bicycle Bridge Project. Currently there is no way to safely cross Route 22, unless you are in a car. The purpose of project is to provide a safe, non-motorized crossing that is not currently available.
A bridge concept was identified as the safest way to cross Route 22 in two studies of the corridor. Both studies were conducted in conjunction with PennDOT, Burrell Township, Blairsville Borough, and other key stakeholders. First, the Indiana County Regional Trail Connectivity Study (2011) evaluated multiple crossing alternatives, including several surface crossing locations. However, these were not recommended due to substantial safety concerns associated with these types of crossings (i.e. speed and stop light violations) and difficulty in acquiring the Department of Transportation permits necessary to retrofit existing intersections.
Second, the Road Safety Audit (2011) brought together an independent, multidisciplinary team to identify road safety issues and opportunities for improvements in safety along the Route 22 corridor. Among the long-term safety recommendations, the team encouraged that PennDOT, Indiana County, and local stakeholders "Investigate the feasibility of creating a grade-separated pedestrian and bicycle trail over S.R. 22 between Club Lane and the S.R. 119 interchange (p.32)".
Other notable safety considerations:
Overhead pedestrian/bicyclist structures have been installed over many highways in a variety of roadside contexts. Studies of crash records for several of these structures revealed no pattern of increased risk attributable to the construction of a bridge at any of these locations.
The bridge has been design to exceed current sight distance criteria for the highway below. These criteria are based on conservative estimates of driver reaction times and vehicle braking performance. The sight distances provided also exceed the requirements for perception and reaction times for the overhead signs and traffic signals. These sight distance calculations have accounted for the volume of truck traffic on Route 22, the complex movements at the interchange, the adjacent traffic signal, and the propensity of vehicles exceeding the posted speed limit.
The future trail extension into Blairsville Borough will not utilize the Old William Penn Highway shoulder. Other areas of this route will require crossings of township roads. However, these crossing can be designed safely like numerous other crossings in Pennsylvania that have even higher traffic volumes, traffic speeds, and more complicated roadway geometry.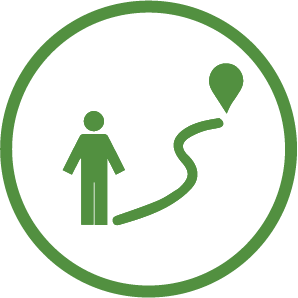 Difficult Connections
Finding a logical, safe way to cross Route 22 has been the single biggest challenge facing the team. During the Indiana County Regional Trail Connectivity Study (2011) every conceivable route over, under, and across the 4-lane divided highway was explored by the design team from L. Robert Kimball & Associates and the 14 member Project Study Committee made up of local stakeholders. This exploration yielded the following difficulties in making connections to the southern side of Route 22.
Norfolk Southern Corporation, owner of the out-of-service railroad between Blairsville and Black Lick, declined repeated requests to convert these from rails to trails. Norfolk Southern has also refused to allow any trail to be routed through the railroad's existing underpasses along the Route 22 corridor.
The former Indiana County Street Railways trolley grade behind the Blairsville school complex is privately owned and the owner declined to have the trail built there.
PennDOT declined requests to allow the trail to be routed with Route 119, under Route 22, using the existing bridge/underpass at the Route 22/119 interchange.
The construction of a new, dedicated tunnel under Route 22 for the trail was evaluated but determined to be cost prohibitive.
Country Lane was carefully evaluated as a potential connection. However, this route was determined to be unsuitable due to narrow pavement widths, steep grades, sharp curves. Further study revealed that necessary improvements would require extensive property acquisition in agricultural areas and regulatory constraints that led the team to eliminate this connection as a possibility.
High Rise Drive and Lear Road were also eliminated for the same reasons as outlined in the previous bullet.
Alternative locations for The Bridge were found to be unsuitable for a variety of reasons, including the expense of acquiring commercial properties, limited sight distance along the highway, and extreme elevation differences between the existing ground and a proposed over-crossing.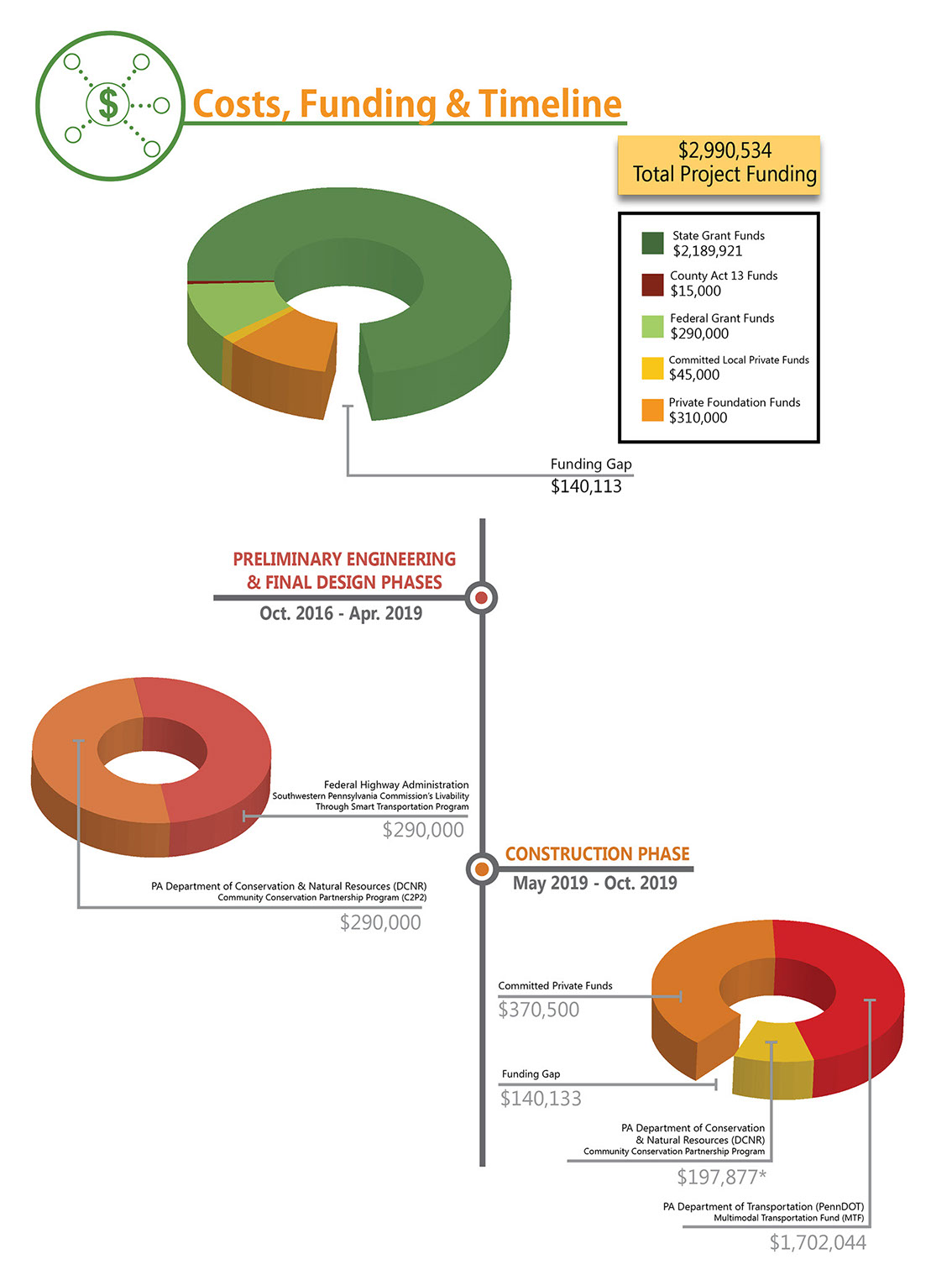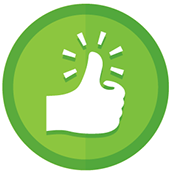 The Importance of Trails
Trails are important to people and the communities they live in. Across the United States, healthy trail networks have been shown to spur stagnant economies by boosting tourism and recreational spending, encourage environmental awareness by getting people outdoors, and improving public health by creating opportunities for physical activity. Other emerging research is highlighting less tangible, but equally important, benefits such as increased civic pride and community identity.
Here are some quick facts pulled from recent studies:
The Indiana County Regional Trail Connectivity Study, prepared by L.R. Kimball (2011) states in their recommendations section that, "the primary physical obstruction to this connection is the crossing of US 22. Due to the safety concerns of a surface crossing of this highway a grade separated crossing is recommended for long term use. To view the full document click here.
According to the Outdoor Industry Association, Pennsylvania's outdoor recreation industry is the fifth largest in the nation, generating $29 billion in consumer spending; $1.9 billion in state and local tax revenue; $8.6 billion in wages and salaries; and sustains 251,000 direct jobs.
More residents using trails and pathways means fewer accidents between pedestrian and motor vehicles.
According to a recent Jackson Hole Pathways and Trails Survey, 96% of residents in Jackson Hole, Wyoming, stated that outdoor recreation was an important factor in their decision to move to or stay in the area.
Nearby trails improve property values. A study of property values along the Mountain Bay Trail in Brown County, Wisconsin showed that lots adjacent to the trail sold faster and for an average of 9% more than similar properties not located next to the trail.
Having access to places for physical activity, such as parks and trails, encourages residents to participate in physical activity and do more often. People are also more likely to walk when they feel protected from traffic and safe from crime and hazards.
A recent study of trail users in Morgantown, WV revealed that 60% of trail users exercise more regularly since they began using trails, and 47% report getting their recommended physical activity through trail use alone, and 23% did not exercise regularly before using the trails.
According to the National Association of Realtors and the National Association of Home Builders, trails ranked as the second most important community amenity out of list of 18 choices.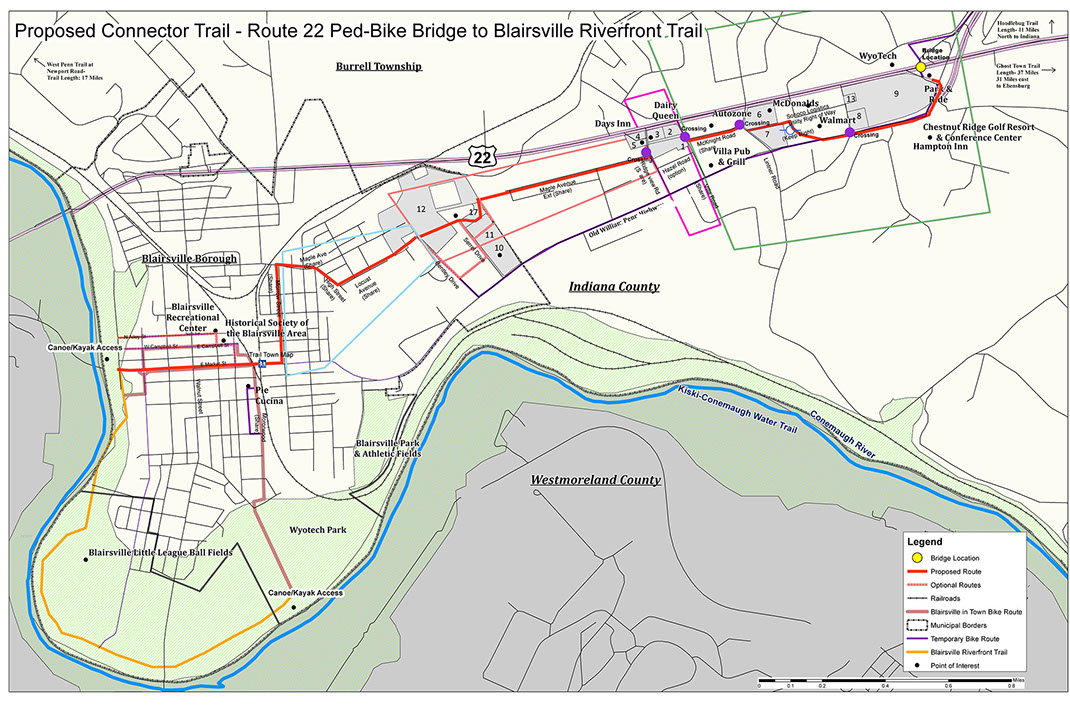 Proposed Connector Trail - Route 22 Ped-Bike Bridge to Blairsville Riverfront Trail
News Articles about the Project