In 2015, Indiana County was selected to participate in the WalkWorks program. WalkWorks is a collaboration between the Indiana County Office of Planning & Development, Pennsylvania Department of Health, and the University of Pittsburgh Graduate School of Public Health to increase opportunities for physical activity across Indiana County. Through this grant funded program, planners work with local communities to identify community-based walking routes and form sustainable walking groups that will enhance and expand active transportation with the ultimate goal of improving the health of County residents.
Indiana County WalkWorks Routes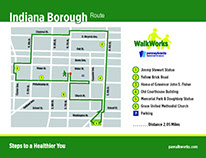 December 2016 Updated Times
Here are the updated times for the following routes that will begin in December 2016:
White Township Recreation Complex Walking Group will meet on Thursdays at 12:15pm.
Ernest Borough Walking Group will meet on Mondays at 4:45pm.
WalkWorks New Information
Indiana County Walking Decathlon- click images below
Click on the flyer for details regarding the WalkWorks routes and meeting times throughout Indiana County!
Want to learn more? We have assembled a handy FAQ guide for you below. And if you are still interested, the Group Leader guide let's you know how you can strengthen your participation in the program.
Additional tips and information on the WalkWorks program can be found below.
If you would like more information or would like to be involved...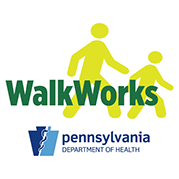 Like your local WalkWorks route and please share with your friends via the links below.
Visit us on mySidewalk to join a conversation about the project!
Barbara Hauge, RLA, ASLA
Landscape Architect
WalkWorks Program Manager
Program Advisory and Steering Committees: